Alarms sound over world food supply as drought wilts US Corn Belt
The US government on Friday slashed estimates for global food supply as a deepening drought withers corn and soybean crops in America's heartland. 'Scary situation,' one analyst says.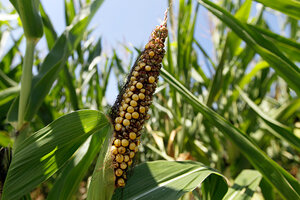 Michael Conroy/AP
A historic Midwest drought prompted the US government on Friday to slash supply estimates for nearly everything in the US cornucopia, including corn, soybeans, and sorghum – a move that caused commodity prices to jump and concerns about the state of the global food cupboard to rise.
US corn and soybeans are crucial to global food supply because they are used for food, feed, cooking oil, and even motor fuel. Reduced supply and higher prices mean that poorer, import-reliant nations may not be able to replenish their food stocks.
"This is shocking," Dan Basse, president of Ag Resources, said during a conference call on Thursday, ahead of the World Agricultural Supply and Demand Estimates report from the US Department of Agriculture. "This is getting people at the United Nations very concerned. The poor in the world are going to see tremendous pressure on their budgetary expenditure for calories. This has become a very scary situation, particularly for those in the world who are impoverished."
With the release of the global supply and demand report Friday morning, prices on the commodities exchange in Chicago rose to all-time highs for corn and soybeans, the hardest-hit crops so far. The estimate for the US corn crop is at the lowest level since 1995-96, when many fewer acres were planted.
---