Drought: USDA throws livestock farmers a lifeline. Will it help?
With the drought sending corn and feed prices soaring, US livestock farmers are bracing for the worst. A $170 million USDA program announced Monday, they say, is too small to make a real difference.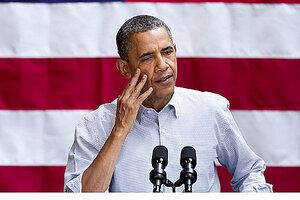 Sitthixay Ditthavong/AP
William Tentinger spent the morning giving shots and tending newborn piglets among 4,000 pigs on his Iowa farm. He also spent time wondering how much more the cost of feed will rise, and how many more pigs he'll have to sell at a loss.
With the current drought, "there's just no way we're going to make any money on hogs in the future," he says.
In the face of this summer's withering weather, the US Department of Agriculture Monday gave what farmers like Tentinger saw as a modest show of support, offering to buy up $170 million worth of meat products between now and Sept. 31.
Livestock farmers have been squeezed hard this year, forced to pay dramatically higher prices for feed, which consumes much of the American corn crop. Prices for meat have risen, too, but not as fast as the cost of feed.
The USDA says the buy-up will help support the price of meat even as farmers who raise hogs, chicken, sheep, and even catfish, cut back their flocks, herds, and stocks to save money on feed. The meat will go to government food programs, such as school lunches and food banks.
The program excludes farmers who raise beef cattle. Although they, too, have been selling off animals to reduce costs, the USDA says the selling off will likely end soon.
Most of the money, $100 million, will go to the nation's hog farmers to buy up pork, though the money is unlikely to have a large effect. Annual pork sales, according to the USDA, are $97 billion.
"We're very appreciative of it," says Mr. Tentinger, who farms in Le Mars, Iowa, near the Nebraska border, and is president of the Iowa Pork Producers Association.
---