Why Iran, more than Russia, may obstruct US goals in Syria
Russia has been the main obstacle on the international stage to US efforts to end Syria's violence, but on the ground Iran appears to be the main outside force propping up the Assad regime.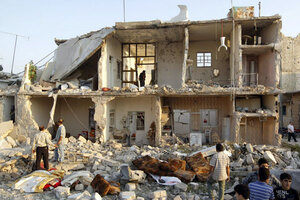 Goran Tomasevic/Reuters
The United States is increasingly realizing that as it seeks to end Syria's violence and drive President Bashar al-Assad from power, it may not be so much Russia that it has to confront, but Iran.
Of the two it has been Russia on the international stage that has thwarted US and Western efforts to halt 18 months of bloodshed in Syria. But on the ground it is Iran that appears to be more active in efforts to prop up what some regional experts and defectors from Mr. Assad's side say is a crumbling regime.
Defense Secretary Leon Panetta says Iran is "playing a larger role in Syria in many ways," something that is of "deep concern" to the US. His words followed comments by Secretary of State Hillary Rodham Clinton in Turkey last week that the US is ratcheting up efforts to sever the links between Assad and Iran and its proxy entity in Lebanon – Hezbollah.
Speaking to reporters Tuesday, the Pentagon chief said Iran's "growing presence" is "adding to the killing that's going on in Syria." He said the US has evidence that Iran is attempting to train and deploy a new militia to fight on Assad's behalf.
---