Eye on Staten Island: world's biggest Ferris wheel coming in 2015
New York City officials envision the Ferris wheel doing for Staten Island what the London Eye did for the south bank of the Thames – making it a top tourist destination with great views.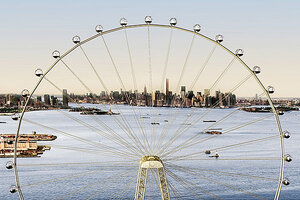 Office of the Mayor of New York/AP
New York has more than its share of "big wheels" riding the streets in stretch limos and shuttling to their weekend oceanfront cottages in helicopters.
But starting in 2015, it will be able to claim it has the biggest wheel – a Ferris wheel that will be larger than the Eye in London, taller than the Singapore Flyer, and beating out the planned High Roller wheel in Las Vegas.
The as-yet-unnamed New York Wheel – the working name for the moment – will be 625 feet tall, which is 84 feet higher than the Singapore wheel, which is currently the tallest Ferris wheel in the world. It will be built on the waterfront on Staten Island only a short walk from the Staten Island ferry terminal.
"The Ferris wheel will be Staten Island's Eiffel Tower," said Sen. Charles Schumer (D) of New York. "The Ferris wheel will be iconic – people will send postcards to their friends and relatives, you'll find its picture on refrigerators and coffee tables around the world, people will get engaged on it, children will be born on it, milestones will be celebrated on it."
Senator Schumer, who was at the press conference announcing the project with other officials, recalls visiting the London Eye with his family several years ago. "You see it as you land and you say, 'I want to go there,' " he said. "The same thing is going to happen here."
---