How can you donate to Sandy relief? Here are 9 organizations.
Use this donation information for organizations on-the-scene in New Jersey, New York, and other areas devastated by superstorm Sandy.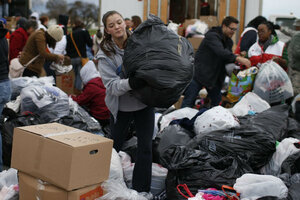 Mike Segar/Reuters
People across the United States are donating money, supplies, and time to help people affected by hurricane Sandy. Relief efforts have been complicated by damage to infrastructure in communities along the Eastern Seaboard. But first responders and relief organizations are attempting to provide food, shelter, and other services to people who have been displaced by the superstorm.
Here is a list of organizations on-the-scene in New Jersey, New York, and other devastated areas.
American Red Cross
Local officials and residents have criticized the American Red Cross for not responding fast enough in the immediate aftermath of Sandy. The Red Cross pulled supplies out of New York City before the storm hit, to avoid damage to the supplies. The organization then had trouble getting back into the hard-hit areas because of traffic and fuel shortages.
The nation's largest private disaster-relief agency is now operating shelters and mobile kitchens, making supply deliveries, and offering other services to the affected areas.
Donations to the Red Cross have already reached $85 million after support from the National Football League and a televised benefit concert.
Online: redcross.org/hurricane-sandy
---