How will New York keep out a rising sea? Dikes, huge sea wall, oyster beds?
After superstorm Sandy, New York officials look for long-term solutions against future floods from storm surges. Many options, little consensus.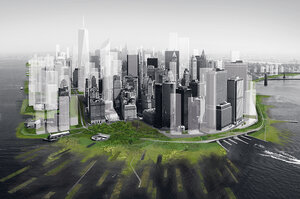 Courtesy of Architecture Research Office/dland studio
During superstorm Sandy, a swollen New York Bay overflowed into Manhattan, flooding subways, tunnels, and a major power substation.
But what if the storm surge had been stopped by a five-mile-long barrier outside the harbor? Or what might have happened if New York had built marshes and oyster beds at the tip of Manhattan that had absorbed some of a storm surge's energy?
In the wake of New York's worst natural disaster in modern times, city and state officials are beginning to consider longer-term solutions to prevent a recurrence of the flooding.
"Climate change is a reality," Gov. Andrew Cuomo (D) said during one of his post-Sandy briefings. "Given the frequency of these extreme weather situations we have had, for us to sit here today and say this is a once-in-a-generation [storm] and it's not going to happen again, I think would be shortsighted."
Even before Governor Cuomo's pronouncement, Halcrow Group, a British company that works on infrastructure projects worldwide, in 2009 proposed a five-mile fixed barrier stretching from Sandy Hook, N.J., to Breezy Point in the Big Apple borough of Queens.
---