Carnival Triumph could have made port much sooner, lawsuits allege
New lawsuits allege that the Carnival Triumph debacle involved a string of mistakes, including ignoring mechanical warnings and dangerously delaying the ship's return to port.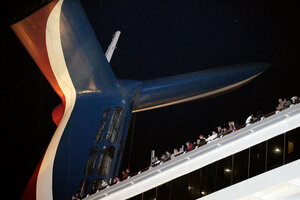 G M Andrews/AP
Two prior incidents involving the propulsion system of the Carnival cruise ship Triumph may have set the stage for the Feb. 10 engine-room fire that left the ship powerless and without toilets for five days at sea, according to a lawsuit filed in Miami.
"A cruise in mid-January 2013 on the Triumph was affected by propulsion issues and on January 28, 2013, there was an incident which resulted in damage to the Triumph's … propulsion system and generators," the complaint says. "Notwithstanding said issues, Carnival knowingly decided to embark on the subject voyage," the suit says.
The class-action lawsuit is one of several complaints filed against the Miami-based cruise company in federal court in Miami seeking damages for what many passengers on the stranded ship described as a cruise through hell.
The Triumph, a 14-story luxury liner carrying 4,200 passengers and crew, was left stranded at sea midway through a four-day cruise from Galveston, Texas, to Cozumel, Mexico, and back.
An engine-room fire knocked out the ship's propulsion system, its power generators, refrigeration, air conditioning, and the vessel's toilets. It took five days to tow the disabled ship and its passengers to a repair facility in Mobile, Ala.
---