Search continues for Kansas City restaurant worker after massive blast
A downtown restaurant was leveled following a gas explosion Tuesday night. Rescue crews are on the scene, trying to find one person unaccounted for.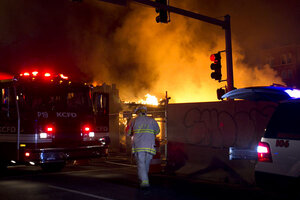 Tammy Ljungblad, The Kansas City Star/AP
With a massive storm bearing down on the city, fire and rescue crews searched Wednesday for the lone person who has been missing since a large gas explosion destroyed a popular Kansas City restaurant.
The storm due to reach Kansas City by Wednesday night could dump as much as 10 inches of snow on the city, adding even greater urgency to the effort to find a female employee who was last seen before the Tuesday evening blast and inferno that turned JJ's restaurant into blackened ruins.
The explosion, which remained under investigation but was believed to be accidental, was felt for nearly a mile around the restaurant, shattering glass in nearby buildings and sending an ominous smoke plume above Country Club Plaza, a popular outdoor shopping and dining district.
At least 14 people were hurt, including seven that remain hospitalized Wednesday. Two of them were in critical condition Wednesday morning, while others were treated and released.
Crews using heavy equipment moved delicately to lift away the heavy debris left by the blast. One of two people first feared to be missing was later found receiving treatment at a hospital, and Mayor Sly James stressed that finding the missing restaurant worker would remain the primary focus of Wednesday's efforts.
"We have a major storm coming in this evening," James said. "We're going to work diligently to get in (to the blast site) to get underneath that weather."
Fire Chief Paul Berardi declined to release any information about the missing woman except that she worked at JJ's.
The blast happened at around 6 p.m. Tuesday, when the dinner crowd would have been filing into JJ's and the many other restaurants in the upscale Country Club Plaza shopping and dining district.
---