Coastal Carolina dorm shooting raises question: Should coeds pack heat?
A shooting Tuesday at Coastal Carolina University in Conway, S.C., left one student dead. Although campus shootings are rare, the incident rekindles a debate on whether to permit guns on campus.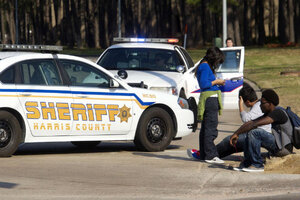 Patric Schneider/AP/File
Another campus shooting, this time at Coastal Carolina University in Conway, S.C., left one student dead and brings into focus the crisis of campus shootings, once again reviving the debate over whether guns should be permitted on college campuses.
An unidentified gunman fatally shot 19-year-old sophomore Anthony Liddell Tuesday evening at a dormitory some two miles from the main campus of the university near Myrtle Beach. No motive is known for the attack and a manhunt is underway for the gunman, who fled campus in a car, according to police.
By various counts, the South Carolina shooting marks the fifth college campus shooting incident of 2013 – including recent shootings at the University of Maryland at College Park; Hazard Community and Technical College in Hazard, Ky.; Stevens Institute of Business and Arts in St. Louis; and Lone Star College in Houston – amplifying the problem of campus shootings for Americans still scarred by the Virginia Tech massacre in 2007, which left 32 dead.
Campus shootings are actually rare events and have not been on the rise, contrary to popular belief, say experts.
---