Knives on planes? TSA chief, defending policy, gets an earful in Congress.
The TSA chief, testifying before a House Homeland Security subcommittee, said allowing small knives on planes would keep flights safe while the agency focuses on the threat from explosives.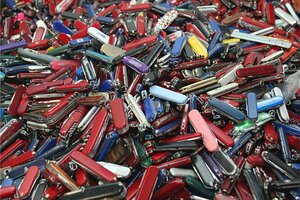 Gene Blythe/AP/File
A new federal policy to allow pocketknives in airplane cabins drew criticism in Congress Thursday, as some lawmakers joined flight attendants and others in questioning the security change.
John Pistole, the administrator of the Transportation Security Administration, defended the policy shift, saying loosened standards would keep flights safe while allowing TSA personnel to focus their screening on the real threat – explosives.
A number of lawmakers voiced skepticism, however, as Mr. Pistole testified before the transportation subcommittee of the House Homeland Security Committee.
"Why now?" asked Rep. Eric Swallwell (D) of California, citing the success that current screening practices have had since the terrorist attacks of Sept. 11, 2001.
"These can cause a terrible tragedy," said Rep. Sheila Jackson Lee (D) of Texas, pointing to pictures of open pocketknives. She said the policy should go "back to the drawing table."
The new carry-on standards, announced earlier this month, will allow passengers to board planes carrying small pocketknives and some sports items such as a souvenir baseball bat or a golf club.
"This decision aligns TSA with International Civil Aviation Organization standards and our European counterparts," the agency said in announcing the shift, which goes into effect April 25.
---