New airport security plans: less frisking, more 'pre-screening'
One of the Homeland Security's key priorities in the months to come will include expediting 'low-risk' travelers through security lines. One way to do this is 'pre-screening.'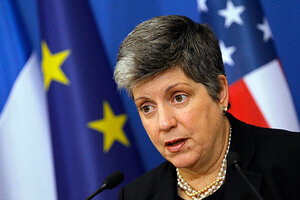 Christophe Ena/AP
The Obama administration is clearly taking complaints about overly-enthusiastic frisking among airport security screeners to heart.
One of the Department of Homeland Security's (DHS) key priorities in the months to come will include expediting frequent fliers and other "low-risk" travelers through security lines.
These fortunates, through the growing use of "pre-clearance" programs, will increasingly get to leave their shoes, jackets, and belts on – and their laptops in cases.
"Not every traveler or piece of cargo poses the same level of risk to our security," Homeland Security Secretary, Janet Napolitano, said Friday at her second annual "State of America's Homeland Security" address at the National Press Club.
"Think of it this way: If we have to look for a needle in a haystack, it makes sense to use all of the information we have about the pieces of hay to make the haystack smaller," Ms. Napolitano said.
This in turn frees up agents to pursue other DHS priorities, "as we move away from the one-size-fits-all model of passenger screening to one that is risk-based," Napolitano noted.
These other priorities include the growing threat of cyber attacks on US financial institutions, the dangers posed by homegrown extremists, and the threat of improvised explosive materials – like the ones used in Afghanistan and Iraq to create roadside bombs – being misused within the United States.
---