Clues sought in shooting death of Colorado prisons chief
Colorado prisons chief Tom Clements was shot and killed as he answered the door at his home Tuesday evening. Police agencies and the FBI are searching for physical evidence and any motive.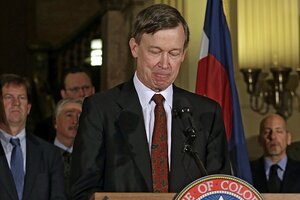 Ed Andrieski/AP
Law enforcement authorities in Colorado, including the FBI, are searching for physical evidence and any motive connected to the shooting death Tuesday night of Colorado Department of Corrections Director Tom Clements.
Mr. Clements was shot and killed at about 8:30 p.m. local time when he answered the doorbell at his home in a wooded area of Monument, Colo. According to the family member who called 911, the lone shooter left immediately. Neighbors report seeing a "boxy" dark-colored 1990s sedan, which had been parked with the motor running, leave the area at about that time.
Gov. John Hickenlooper fought back tears as he addressed questions during a news conference on Wednesday, The Denver Post reports.
In a letter to Colorado Department of Corrections employees, Governor Hickenlooper wrote: "I can hardly believe it, let alone write words to describe it…. He was unfailingly kind and thoughtful, and sought the 'good' in any situation. As you all know, in corrections that is not easy…. I have never worked with a better person than Tom, and I can't imagine our team without him."
"We have no known suspect at this time," El Paso County Sheriff's office spokesman Lt. Jeff Kramer said in a statement, adding that robbery does not appear to be a motive.
"We are sensitive to the high-profile position in which Mr. Clements served and the fact there could be people who would target him based on his position," Lieutenant Kramer said. "However, we remain open-minded to all investigative possibilities and continue to work all available clues and sources of information."

"There is no evidence of a home invasion," Kramer said. "Whether he was specifically targeted or this was random, we don't know."
State officials, however, took the precaution of increasing security for top Colorado government officials and at the governor's mansion, USA Today reports.
---