Hello, tower? Will the sequester make flying less safe at 149 US airports?
Automatic 'sequester' spending cuts will force the FAA to shutter 149 airport towers. So far, the American public hasn't made up its mind about whether spending cuts are good.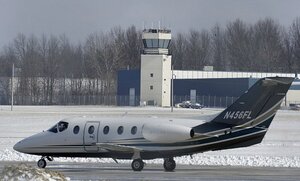 Tony Dejak/AP
Flying will become a bit more seat-of-the pants for pilots who use some 149 US airports that are scheduled to have their air-traffic towers closed next month, thanks to automatic spending cuts imposed by Congress.
The Federal Aviation Administration (FAA) sparked a debate about flying safety when it announced Friday that contracted flight controllers at 149 airstrips would not report to work starting in April as the agency adjusts to mandated across-the-board spending cuts demanded by Congress in the Budget Control Act of 2011. The "sequester" went into effect March 1 when Congress and the White House failed to come to an agreement about deficit spending.
The $85 billion in sequester cuts forces agencies to curtail their spending by up to 8 percent, which many critics say amounts to a vexing scenario that will mean longer airport lines, fewer White House tours, and cuts in military benefits. The US Department of Transportation specifically has to absorb $1 billion in cuts, with $637 million coming out of the FAA's budget.
That's enough to cause uproar among Americans, Transportation Secretary Ray LaHood told Congress last month.
"Your phones are going to start ringing off the hook when these people are delayed at airports, and their flights are delayed 90 minutes, or their flights are canceled, or their air tower is closed," Mr. LaHood said.
So far, most Americans have been largely unfazed by the forced cuts, though the White House has said many of the impacts will be cumulative over time. The general consensus in Washington is that Republicans, especially, are content to let the sequester cuts remain in place, in part as proof that the sky won't fall as a result of modest agency spending cuts necessary to bring spending into line and reduce the rapidly expanding national debt.
"The American public has not yet come to a strongly shared judgment on the effects of the sequestration cuts," writes the Gallup organization, based on a mid-March poll. "More than half of Americans say they simply don't know enough to tell whether the cuts are a good thing or a bad thing for the country or for themselves…. Apparently, nothing in the information flow … has been enough – to date – to move the public's opinions about the cuts in either direction."
---