Why did West, Texas, build homes and a school next to a 'time bomb'?
The town of West, Texas, and the West Fertilizer Company grew and prospered together. But profit motives, a sense of civic trust and Catch-22 zoning laws failed to recognize the danger brought to light when the plant exploded this week with the force of a small nuclear bomb.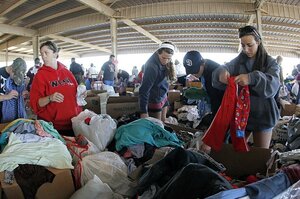 Ron T. Ennis/The Fort Worth Star-Telegram/AP
Some residents of this small Texas town didn't pay too much attention to an evening fire at the West Fertilizer Company, with some grilling hot dogs on a nice spring evening in a neighborhood just across the railroad tracks from the plant.
But others received panicked phone calls, including one that said: "Y'all need to get out of there – now!"
Minutes later, in the case of one resident who scrambled toward his truck, the plant blew up, killing at least 14 people – many of them first responders – injuring 200, and destroying some 80 homes. Residents stumbling around in the aftermath described a sickening war zone – houses afire, alarms shrieking, and neighbors bloodied and prone.
But what became striking to many Americans as the tragedy unfolded and the immense power of the blast came to be understood is why anyone allowed homes, a school and a nursing home to be built next to a plant that in large quantities stores derivatives of ammonia, one of the most explosive substances on the planet?
History certainly was no guide. After all, ammonia has been the key accelerant in some of the world's largest industrial accidents, including an explosion that killed hundreds in Toulouse, France, in 2001, and a 1947 blast that killed nearly 600 people in Texas City, Texas. The bomb assembled and planted by Timothy McVeigh next to the Alfred P. Murrah Building in Oklahoma City in 1995 was fueled primarily by ammonium nitrate.
---