Texas fertilizer plant: Why was the blast so enormous?
The explosion at a Texas fertilizer plant had the force of a magnitude 2.1 quake. Here's a look at how the combination of fire and materials at the facility could have produced the blast.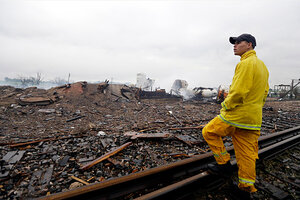 LM Otero/AP
Rescuers are combing through leveled homes and apartment buildings in the hunt for survivors following Wednesday night's fire and explosion at a small fertilizer and grain-storage company near Waco, Texas.
Initial estimates put the number of fatalities at up to 15, with more than 160 people injured. The blast had enough energy to trip US Geological Survey seismographs as a magnitude 2.1 quake.
How did such a powerful explosion happen?
The plant in question, West Fertilizer Co., is said to have had some 54,000 pounds of anhydrous ammonia on-site, a key ingredient in making ammonium nitrate, which is widely used as fertilizer. It's also used in cold packs, as rocket fuel, and as an explosive.
The fire would have affected each compound in different ways, specialists say.
Typically, anhydrous ammonia, a gas, is stored in tanks with relief valves so that as hot weather heats the gas and it expands, the valves vent some of the gas to prevent it from bursting its tank, explains Matt Pearson, fertilizer containment and certification specialist with the Office of Indiana State Chemist & Seed Commissioner, based at Purdue University in West Lafayette, Ind.
---