Did a foreign hand guide Boston bombing suspect Tamerlan Tsarnaev?
US investigators are interested in a trip that Tamerlan Tsarnaev, the older brother suspected in the Boston bombing, took to the North Caucasus region of Russia in 2012. They want to know whether he had contact with foreign extremist groups.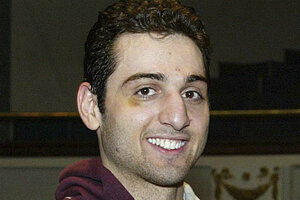 Julia Malakie/The Lowell Sun/AP/File
As more information emerges on Tamerlan Tsarnaev, the older of two Chechen immigrant brothers accused of carrying out the Boston Marathon bombings, the clearer the picture becomes of a radicalized Muslim whose shallow-rooted ideology was fed by a deepening hatred of US counterterrorist policy in Muslim countries.
Less clear is where that radicalization – and the germination of the bombing plot – occurred. Federal investigators want to know if Mr. Tsarnaev, killed early Friday in a shootout with police, was essentially a home-grown terrorist, or if the 26-year-old received any training and direction from foreign extremist groups – in particular during a six-month trip to his native North Caucasus region of Russia last year.
Russia seems likely to cooperate with US authorities on the Tsarnaev investigation, some regional experts say, especially because the threat of Islamist extremism and terrorism is a concern the Russians have long emphasized in their dealings with the US and on a variety of issues – from human rights abuses to the war in Syria. Russian President Vladimir Putin sent President Obama his condolences over the Boston bombings even before the Tsarnaev brothers emerged as suspects.
---