Bombers' Times Square plan: Use remaining bombs in New York, FBI says
Bombers' Times Square plan was hatched spontaneously, the FBI told New York officials, based on its interrogation of Boston Marathon bombing suspect Dzhokhar Tsarnaev.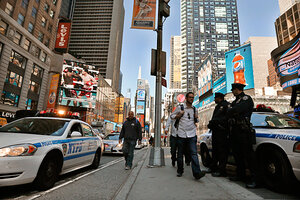 Brendan McDermid/Reuters
After carjacking an SUV in Boston, the alleged Boston Marathon bombers came up with a spontaneous plan – go to New York City's Times Square and set off more bombs, city officials announced Thursday.
At an afternoon press conference, New York's Mayor Michael Bloomberg and Police Commissioner Ray Kelly said the FBI told them that Dzhokhar Tsarnaev, as part of his 16-hour FBI interrogation, identified New York as "next on their list of targets."
Kelly said that initially, in the first interrogation that stretched from Saturday night into Sunday morning, Mr. Tsarnaev told investigators that he and his older brother, Tamerlan, planned to go to New York to "party."
But in the second interrogation, which stretched from Sunday night into Monday morning, Kelly said, Tsarnaev was more "lucid," saying the actual plan was to drive to New York in the SUV and detonate their remaining bombs. According to Kelly, they had one pressure cooker bomb and five pipe bombs.
---