Obama bemoans partisanship at Democratic fundraiser
While raising money to pay off the DNC's debts from his 2012 campaign, President Obama said he had hoped his election (or re-election!) would end partisan stalemates.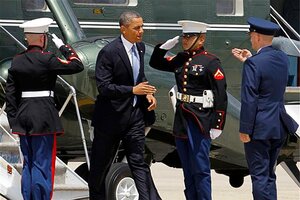 Ann Heisenfelt / AP
Huddling with A-list celebrities and top re-election donors, President Barack Obama bemoaned the partisan forces that have stymied compromise in Washington as he raised campaign cash for Democrats in New York.
At a cozy suppertime fundraiser Monday, Obama said he had hoped his election in 2008 might "break the fever" of partisanship and gridlock that has stood in the way of his agenda. When those hopes proved unfounded, he looked to his re-election, believing a second consecutive victory might deliver the final blow.
"It's not quite broken yet," Obama said to laughter from some of the 60 donors who gathered in the home of film producer Harvey Weinstein, a major donor and bundler for Obama's re-election campaign. "I am persistent, and I am staying at it."
The star-studded fundraiser was the first of three events Obama headlined Monday in New York, making good on his commitment to go all out for Democrats ahead of the 2014 elections. Pop icons Justin Timberlake and Jessica Biel were among those who nibbled on desserts in a modest living room in Weinstein's West Village brownstone.
---