Are border security measures working? Why the answer is elusive.
A Council on Foreign Relations report says a lack of government data on what is happening on US borders is depriving Congress of important information for its debate on immigration reform.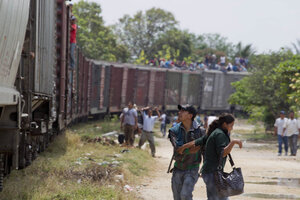 Eduardo Verdugo/AP
Some of the ingredients that go into American border security are clear: The US-Mexico line is now flanked by 651 miles of fence and guarded by some 18,000 Border Patrol officers.
But what, exactly, has this arms race on the border achieved?
That question is shockingly difficult to answer, argues a new report by the Council on Foreign Relations, because the government refuses to release almost any substantive data on border security.
Aside from the much-touted statistic of apprehensions at the border – which have decreased dramatically in recent years – immigration authorities have done little to demonstrate the results of their beefed up border security, the study's authors argue.
"The problem is the number of apprehensions is not self explanatory," says Edward Alden, one of the authors of the CFR study. "It could mean people are being deterred from crossing, but it could also mean a lot of other things. When you think about it, it could even mean Border Patrol is doing a worse job because they're catching fewer people."
That lack of other substantive data on what's happening at the border – and why – has left lawmakers largely in the dark as they attempt to craft meaningful immigration reform, the authors say.
"Designing better policies for the future will be difficult unless lawmakers have a better grasp on the effectiveness of immigration enforcement in reducing illegal immigration to the United States," the study concludes.
Indeed, how the government tracks its own successes and failures on the border – or fails to – has not gone unnoticed in Congress as members have debated immigration policy in recent months.
Under a proposed Senate bill, the US will spend an additional $4.5 billion in border security measures over the next five years, much of it designed to ensure that 90 percent of illegal border crossers are turned back or apprehended along high traffic corridors of the US-Mexico border.
---