When disaster strikes America, a more skilled response
The Oklahoma tornado is the latest bout of extreme weather to require an all-out emergency response. Quick and efficient, the reaction in Moore, Okla., points to a nation getting better at coping with natural disasters.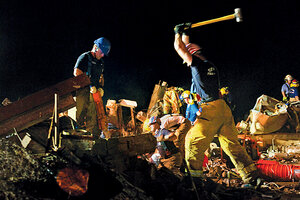 Maj. Geoff Legler/Oklahoma National Guard/Reuters
On the afternoon of Monday, May 20, the destruction in Moore, Okla., seemed beyond comprehension. More than 13,000 homes were damaged by a tornado that, by meteorological standards, was a raging monster. Residents emerged from the shipwrecks of what had once been houses, not knowing who among their neighbors had fled, who might be hunkered down under the rubble, and who might be dead.
The search and rescue, it seemed, could take days. Instead, despite hard rains and darkness, the initial sweep was done overnight.
Oklahoma's preparation and its prompt response to one of the most destructive tornadoes in history are examples "other communities would be well to emulate," says David McEntire, an emergency planning professor at the University of North Texas in Denton.
In part, it was a product of Oklahoma itself – a parable of how repeated exposure to weather's most ferocious extremes builds preparedness into the very DNA of "tornado alley." More broadly, it is also evidence that the United States, as a nation, is simply getting better at dealing with natural disasters.
Improved forecasts are helping to limit the loss of life, and the fallout from hurricane Katrina has dramatically reshaped disaster response. Federal, state, and private officials, who once had only a vague notion of what their counterparts were doing, now coordinate to the point that folks on the ground know who will be collecting lost pets and who will be flipping burgers for the droves of emergency workers.
To be sure, the Moore tornado was not of the scale of Katrina or superstorm Sandy. But the story of how ATV-riding urban search-and-rescue teams here were on their second and third rounds of searches less than 24 hours after the tornado touched down suggests how much has changed since New Orleans was lawless and underwater for days in late summer of 2005.
"The higher profile of these types of disasters, and the nature of their physical and social impact, brings this closer to home than ever before," says Liesel Ritchie, director of research at the National Hazards Research and Applications Information Center at the University of Colorado in Boulder. "It's not like we haven't experienced tornadoes before, but it's on the radar in ways that we haven't had prior."
---