Pricey tickets for Rolling Stones tour test limits of live-concert market
At as much as $600 a pop, tickets to the Rolling Stones 50th-anniversary tour point to an industry catering more and more to a rarified tier of concert-going consumers. Why do ticket prices keep rising?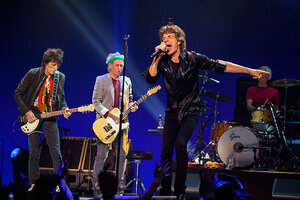 Barry Brecheisen/Invision/AP
Tickets to concerts this summer will cost more – not a big surprise to those whose summer rituals are as likely to include outdoor concerts as beachcombing and family vacations.
What that means is fewer people are buying tickets, a sign that superstar acts are now testing the limits of how much consumers will spend to see them perform live.
The concert industry enjoyed a record-breaking 2012 in terms of revenue, bringing in $4.7 billion, according to Pollstar, which tracks the ticketing industry. However, fewer people bought tickets last year than the year before, dipping to 36.7 million and representing a continued decline from the peak sales of 40.5 million tickets sold in 2009.
The effects of the Great Recession are fading, but the general public is still somewhat reticent to lay out big bucks. Somewhat counterintuitively, the concert industry has coped by raising ticket prices, catering primarily to a top tier of consumers willing to pay more for the top concert draws. It is also experimenting with premium packages that entice consumers to spend more on perks such as valet parking, after-show amenities, and merchandise.
AEG Live, the promoter for the Rolling Stones 50th-anniversary tour, is testing the market to find that sweet spot between consumer demand and affordability. The tour plays its third and final night in Chicago Monday, and continues throughout North America and Europe this summer.
The average ticket for the first seven North American Stones shows cost $355.14, a 162 percent leap from the $135.63 average for the band's last outing in 2006, Pollstar reports. A majority of tickets are priced above $150, with many seats on the lower level priced at $600 (before ticketing surcharges and other fees).
The Rolling Stones tour "absolutely pushed the upper limits of the market," says Gary Bongiovanni, editor of Pollstar.
---