Gay marriage in California: State prepares for more same-sex weddings
California granted marriage licenses to same-sex couples for about five months in 2008, before voters passed Prop. 8 to ban them. Now that the Supreme Court has struck down Prop. 8, Californians are preparing for an influx of lesbian and gay weddings.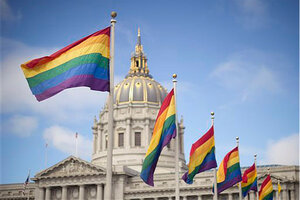 Noah Berger/AP
The Palm Springs Tourism Bureau was ready when the U.S. Supreme Court cleared the way for same-sex marriages to resume in California. Within an hour of the high court handing down its decision Wednesday, the bureau launched a wedding web site featuring photographs of same-sex couples and spotlighting the desert city's gay and lesbian resorts.
"We just saw this as a great opportunity. LGBT people planning to get married need a location, and Palm Springs is a favorite destination," Hillary Angel, a bureau spokeswoman, said. "You can get married at Frank Sinatra's estate."
The nation's most populous state was a trailblazer the last time it opened the door to gay marriages five years ago. Back then, California was only the second state —after Massachusetts— to do so, a position it lost when voters slammed the door shut after only a few months by amending the state constitution to outlaw same-sex unions.
Now, as state officials prepare once again to issue marriage licenses on an equal opportunity basis, jewelers, hotels and event planners are playing catch-up up with a dozen other states and the District of Columbia. Couples, meanwhile, are making wedding plans against a political and social landscape that looks much different from the one that existed in 2008, when an estimated 18,000 couples hurried to tie the knot before the ban's passage and spent months not knowing if their unions would be invalidated.
"Today is the first day of an entirely new reality for same-sex couples and for LGBT people in this state," said National Center for Lesbian Rights Executive Director Kate Kendell, who got married during the brief window that year. "No one else in the history of this nation faced the sort of uncertainty, the stutter step of forward progress and backward sliding to the extent the LGBT community has, and now, at least in California, we are done."
---