Asiana Airlines crash: Details point to short landing, possible pilot error
The NTSB and other agencies have begun investigating the crash of Asiana Airlines Flight 214 in San Francisco. Of the 307 passengers and crew, two were killed and 48 injured. Several dozen are unaccounted for, but many survived unhurt due to safety designs in the Boeing 777.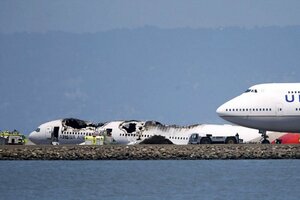 Stephen Lam/REUTERS
UPDATE: 9:30 pm ET Authorities now say they have accounted for all but one of the passengers on Asiana Airlines Flight 214. The crash landing killed at least two people; 181 were transported to area hospitals, 49 with serious injuries. Asiana Airlines reported that 77 of the passengers were Korean citizens, 141 Chinese citizens, 61 US citizens, and 1 Japanese citizen.
Federal investigators have begun looking for the cause of the crash of Asiana Airlines Flight 214 while landing at San Francisco International Airport on Saturday.
What's known so far points to circumstances – whether malfunction or pilot error – causing the tail of the Boeing 777 to strike the seawall at the end of the runway, then sliding several hundred yards.
There has been no official report on casualties, but reports from local first responders and hospital indicate two people killed and at least 70 injured. South Korea's Yonhap news agency in Seoul said the plane had carried 292 passengers (including 61 US citizens) and 16 crew members.
San Francisco Fire Chief Joanne Hayes-White reported Saturday that 48 passengers had been taken to local hospitals. Another 190 had "self evacuated," Chief Hayes-White said, some with minor injuries.
---