Detroit bankruptcy: Already, clock is ticking to get in and out
The plan calls for Detroit, burdened by $18 billion in debt, to emerge from bankruptcy in 15 months. The timeline is ambitious but realistic, say bankruptcy experts. But some speed bumps have already appeared.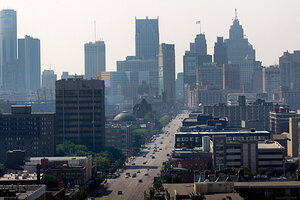 Rebecca Cook/Reuters
Now that Detroit is declaring bankruptcy, it must face its next challenge: time.
The process the city wants to follow calls for a financial restructuring plan to be approved by a federal bankruptcy judge "as promptly as possible," according to court papers filed Thursday. Emergency manager Kevyn Orr, working at the behest of Michigan Gov. Rick Snyder (R), said in the court filing that he wants the city to emerge from bankruptcy by September 2014, which is about when, under state law, the clock stops on his 18-month tenure. At that point, Mr. Orr can be replaced by a two-thirds majority vote of Detroit's city council.
"We are running out of time. There's a lot of work to be done here even within those 15 months," Orr told reporters at a press conference Friday. "We're dealing with 60 years of deferred [fiscal] maintenance in 15 months."
The time frame will require Orr to submit evidence that supports his plan, as well as deal with objections. His negotiations with more than 40 labor unions will continue, as will talks with groups representing pension systems of current retirees. On top of it all, Orr will need to submit a two-year city budget and figure out ways to keep the cash flow going to support Detroit's emergency, health, and safety services in the coming months.
"That's a pretty heavy burden to undertake. He needs to move quickly," says Douglas Bernstein, a managing partner at Plunkett Cooney, a law firm outside Detroit that specializes in bankruptcy law.
---