Detroit bankruptcy: The war shifts to the courts
State officials say they hope that Detroit will emerge from bankruptcy by September 2014, but labor unions and bondholders are gearing up for what is more likely to be a prolonged legal battle.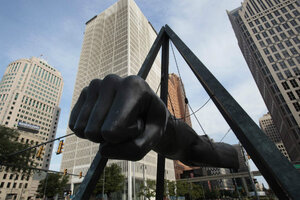 Rebecca Cook/Reuters/File
Detroit's filing of a petition for Chapter 9 bankruptcy on Thursday marks just a skirmish in what is expected to be a prolonged legal battle between labor unions, bondholders, and state officials over the future of a city that once symbolized the nation's industrial might.
At issue is the fate of $5.7 billion in unfunded retiree health insurance and $3.5 billion in unfunded pension payouts for some 30,000 retirees and current city workers. Under federal bankruptcy law, contracts regarding the city's obligations to these pensions can be severed. But labor unions, arguing that Michigan's Constitution prohibits the diminishing of accrued public pension obligations, vow to keep up the fight in court.
Last week, George Orzech, chairman of the Police and Fire Retirement System, summed up his side's stance toward the evolving legal conflict: "Welcome to war."
The moment Detroit filed for Chapter 9 bankruptcy, a county judge filed an injunction to throw it out of court.
State officials say pension and retiree health benefits will be paid at least through the end of the year, adding that they hope Detroit will emerge from bankruptcy by September 2014. The state and labor unions are disputing exactly how much the different pension funds are underfunded, but emergency manager Kevyn Orr told Fox News Sunday that bankruptcy is the "only way" to get Detroit's liability costs under control so the city is not ultimately swallowed deeper into a financial hole.
---