After Colorado floods, state will rebuild, but should it 'redo'?
The Colorado floods are leading to a massive rebuilding effort, but with winter closing in, the question is whether the state can wait to rebuild better and smarter, or whether it must simply move fast.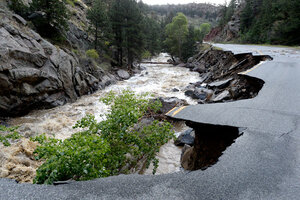 Jeremy Papasso/Daily Camera/AP
The floodwaters have largely receded, and the lists of unaccounted for people have dwindled.
In their wake, they've left hundreds of miles of destroyed highway, dozens of washed-away bridges, and thousands of demolished and damaged homes.
The rebuilding process that Colorado faces now is a daunting, hugely expensive task that will ultimately take years. It is also, say many disaster experts, an opportunity – a chance to rebuild some things better than they were before, with an eye toward withstanding future flooding.
"The silver lining with events like this is you do have the opportunity to redo things differently – the layout of roads, the layout of towns," says Michael Gooseff, a professor of hydroecologic science and engineering at Colorado State University in Fort Collins. "Mother Nature has reset the playing field for us."
The competing goals of speed, economy, and disaster mitigation and planning can sometimes be at odds with each other, experts say. And simply the scale of what needs to take place is daunting. But Colorado Gov. John Hickenlooper and Jerre Stead, his new chief recovery officer, have talked about rebuilding "stronger" – though the governor has also set a relatively rapid target schedule.
Preliminary estimates say that some 200 miles of highway and about 50 bridges have been wiped out or severely damaged, and more than 2,000 homes destroyed. Many of those roads go through challenging mountain terrain and are vital to connecting communities, now largely isolated.
"We are about to embark on a rebuilding effort that is truly epic in scale," Governor Hickenlooper said at a news conference last week, in which he set a Dec. 1 deadline for rebuilding as many roads and bridges as possible. "We want to recover and rebuild quickly, better, and in the most efficient way possible."
In many ways, the task Colorado now faces is similar to that facing Vermont after hurricane Irene hit two years ago. Like Colorado, Vermont is a mountainous state, and the deluge of rain that fell poured into narrow valleys, washing away roads and bridges. The state lost some 500 miles of roadway and more than 30 bridges.
---