Mitt Romney gets post-debate boost in the polls. Will it last?
Mitt Romney is moving ahead in the first public opinion polls taken since his debate with President Obama. But there are two more debates and a month to go until Election Day, and the race remains close.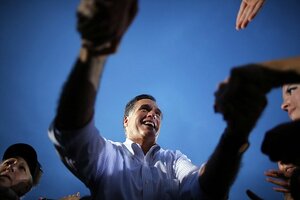 Brian Snyder/REUTERS
Everybody agrees that Mitt Romney won this week's debate with President Obama. Apparently, so do the first public opinion polls since then.
A Reuters/Ipsos online tracking poll released Friday has Romney drawing four points closer to Obama than he had been just before the debate – just two points behind now at 44-46.
Asked if they felt better about the candidates after Wednesday night's debate, 30 percent of those surveyed said "yes" about Romney compared to just 14 percent for Obama.
The Rasmussen polling organization's first post-debate survey has Ohio a virtual draw with Obama holding just a one-point lead. Rasmussen also has Romney moving into a two point lead in Florida.
In the 11 key states Obama won in 2008 (Colorado, Florida, Iowa, Michigan, Nevada, New Hampshire, North Carolina, Ohio, Pennsylvania, Virginia, and Wisconsin), which provide more than half the electoral votes needed to win the election, the president is ahead 50-45, according to Rasmussen's daily tracking poll. Still, "Romney now earns his highest level of support this year."
---