Presidential debate 101: Does Romney want extra $2 trillion for Pentagon?
Romney's call for Pentagon spending to be no less than 4 percent of GDP could add $2 trillion to its budget. But Obama's claim that this is money the military doesn't want misses a key issue: civilian control.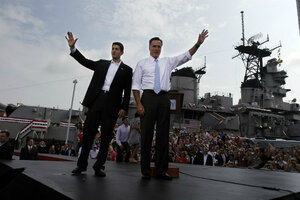 Amanda Lucier/The Virginian-Pilot/AP/File
Does Mitt Romney really want to provide the Pentagon trillions more than the nation's generals and admirals have requested? The Obama campaign insists that's the case. At Tuesday's presidential debate, while discussing the GOP nominee's fiscal plans, President Obama put it this way: "Governor Romney ... also wants to spend $2 trillion on additional military programs, even though the military's not asking for them."
Romney didn't really engage in discussion on the issue. But his running mate, Rep. Paul Ryan (R) of Wisconsin, did earlier this month in the debate between vice presidential candidates in Kentucky. When Vice President Biden made the $2 trillion assertion, Representative Ryan hit back with his own take: The Obama administration's plans would actually lead to a reduction in military forces.
"Look, do we believe in peace through strength? You bet we do," said Ryan.
---