Presidential debate 101: When did Obama label Libya attack 'terror'?
(Read article summary)
In a narrow sense, Mitt Romney was wrong when he said at the presidential debate that Obama took weeks to describe the consulate attack in Libya as an act of 'terror.' But in a larger sense, Romney isn't wrong.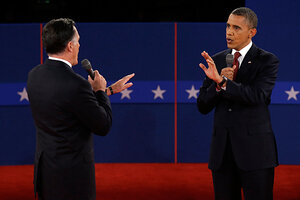 Charlie Neibergall/AP
When did President Obama label as "terror" the attack that killed the US ambassador to Libya? This issue has become one of the most contentious to arise out of Tuesday night's presidential debate at Hofstra University. That's because it involved a tough question, a heated response, a lunge counterattack, and then intervention by controlling authority. (It sounds Shakespearean when we summarize it that way, doesn't it? As if it's a lost scene from "Hamlet" or "King Lear.")
This dramatic exchange began when moderator Candy Crowley asked Mr. Obama whether Secretary of State Hillary Rodham Clinton was responsible for any US failures that led to the assault in Benghazi, which killed Ambassador Christopher Stevens and three other Americans. Obama replied – as he had to in that circumstance – that as president the buck stops with him.
Then he added this: "The day after the attack ... I stood in the Rose Garden and I told the American people and the world that we were going to find out exactly what happened. That this was an act of terror, and I also said that we're going to hunt down those who committed this crime."
---