Why Fox News dropped Sarah Palin
After John McCain picked Sarah Palin out of relative obscurity to be his vice presidential running mate, she became a political force of nature. Since then, however, her star has lost its luster within the GOP, and she's parted ways with Fox News.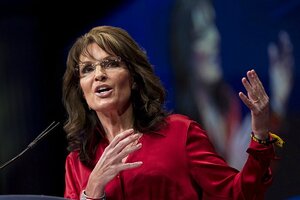 J. Scott Applewhite/AP
When the history of US politics in the early 21st century is written, two figures will stand out: Barack Obama and Sarah Palin.
The election of Mr. Obama to the highest elective office – the first African-American to win the presidency – did not necessarily signal a new era of post-racial politics. But coming just a generation after federal troops in the South (and a federal judge in Boston) were necessary to desegregate public schools, it was a huge milestone.
Ms. Palin was not the first woman to win a major political party's vice presidential nomination; that was US Rep. Geraldine Ferraro, Walter Mondale's running mate way back in 1984.
But the presence of the former Alaska governor on the GOP ticket headed by Sen. John McCain in 2008 invigorated the party – at the time, at least. And although they lost to Obama and Joe Biden, it wasn't the blowout that Mondale and Ferraro suffered against Ronald Reagan and George H. W. Bush.
Ferraro went on to relative political obscurity, twice losing Democratic Party primaries for the US Senate. Palin, on the other hand, was just getting started when the returns for the 2008 presidential race were being counted.
---