Immigration reform: Why many GOP lawmakers applauded Obama speech
President Obama treaded carefully around immigration reform during his State of the Union message. Republican lawmakers took notice, with many appreciating his back-seat approach.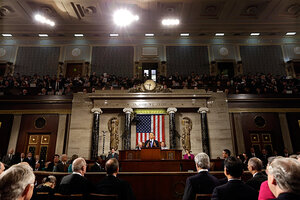 Charles Dharapak/AP
Rep. Kevin Brady (R) of Texas has some advice for President Obama on immigration reform: Easy does it.
Mr. Obama seems to have anticipated Mr. Brady. During his State of the Union message Tuesday night, the president briefly outlined his proposals before passing immigration reform over to Congress. His approach to the issue, which has vexed several previous presidents and Congresses, was notably less strident than his calls for action on a range of other issues, from gun control to cybersecurity.
Obama's careful handling of immigration reform reflects a do-no-harm strategy that seems to recognize deep suspicions about his motives among many GOP lawmakers, such as Brady.
"I think the president will invariably make it harder for both sides to come together because he sort of likes baiting Republicans on this," Brady said after the speech. "If he wanted to see true immigration reform, he'd lock himself in the Oval Office until Congress got it done."
Fellow Democrats, too, see the challenges facing Obama on immigration reform.
---