Immigration reform 101: Should illegal immigrants be offered citizenship path?
As the immigration reform debate intensifies, some lawmakers propose a middle ground between deportation and citizenship for illegal immigrants. Critics say that will create a permanent underclass.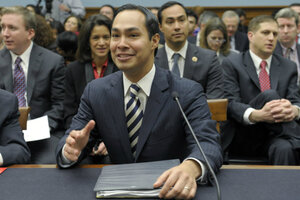 Susan Walsh/AP
Should immigration reform legislation offer people living in the United States illegally a (long) pathway to citizenship? Or would some intermediate step such as legal residency suffice?
That's a debate that arose this week at a House Judiciary Committee hearing on the prospects for fixing America's rickety immigration system. It's not a simple argument, given that it involves national and immigrant identity, the reasons some risk their lives to sneak across the US border, simple fairness, and practical considerations about the design of any new immigration system.
It also, perhaps, presages the difficult policy arguments to come as the effort to craft a 2013 reform bill picks up momentum in Congress.
"Are there options that we should consider between the extremes of mass deportation and a pathway to citizenship for those not lawfully present in the United States?" said Judiciary Committee Chairman Robert Goodlatte (R) of Virginia at the hearing.
Right now, an estimated 11 million to 12 million illegal immigrants are already in the country. President Obama supports providing them a way to eventually qualify for US citizenship. Some Republicans are beginning to come out in support of the same thing, given their party's lack of success in attracting Hispanic voters.
---