Immigration reform bill: GOP's Marco Rubio seizes opportunity, but also risk
(Read article summary)
Sen. Marco Rubio, a favorite of the tea party, is key to the ultimate success of new immigration reform legislation. His presidential prospects could rise or fall with the bill.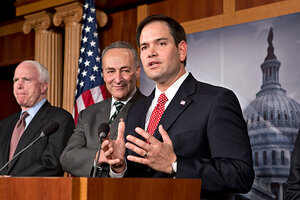 J. Scott Applewhite/AP
(Updated at 2 p.m. EDT, after Senator Rubio spoke with talk-radio host Rush Limbaugh.)
2016 is years away. But for Sen. Marco Rubio (R) of Florida, the next few weeks could prove to be critical to shaping his presidential prospects.
As one of four Republicans in the group of eight senators behind the bipartisan comprehensive immigration reform plan outlined Monday, as well as one of the party's most-buzzed-about potential White House contenders, Senator Rubio arguably has the most to gain – or lose – politically from the effort.
If the bill gets through, it could mark an important step in changing the GOP's image to one that's more inclusive and minority-friendly, potentially helping Rubio and his party win over more Hispanics in future elections. And it could cement Rubio's reputation as a bridge-builder – someone who has the trust of the party's conservative base and can bring it along, or at least neutralize some of its concerns, on a hot-button policy measure its members have historically opposed.
On the other hand, if the bill fails – or if it passes but winds up simply granting legal status to people here illegally without following through on the promise to secure the border – Rubio may find some of those same bridges burned. He would then face the delicate task of having to repair relations with the party's base, for whom illegal immigration has often proved a key voting issue in primaries.
---