See, Washington can get along! The government shutdown that didn't happen.
The Senate agreed Wednesday to fund the federal government through the end of the fiscal year. The House is expected to follow suit Thursday. This clears the deck for the bigger battle ahead.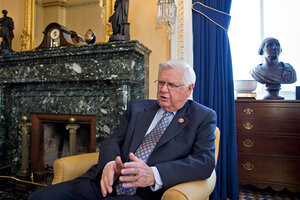 J. Scott Applewhite/AP
Rest easy, America: Congress is going to make sure the government doesn't shut down just after Easter – even though you've got to continue living under the sequester
The Senate passed what's known as a "continuing resolution" on Wednesday night by a vote of 73 to 26, with all but one Democrat joining 19 Republicans. The measure would keep government operations running from March 27 until the end of the fiscal year on Sept. 30. That gives Washington time to have a robust debate about deficits, entitlement reform, and taxes as part of the negotiations over next fiscal year's budget.
The House of Representatives is expected to take up and pass the continuing resolution Thursday afternoon.
While the bill left the automatic, across-the-board spending reductions known as the "sequester" in place, a bipartisan team of legislators in both chambers deftly handled the measure so that it did not turn into a political conflagration and threaten a government shutdown.
"This is pretty good to show that we can work in a bipartisan basis, that we can actually govern, and that we can conduct ourselves with decourm," said Sen. Barbara Mikulski (D) of Maryland, the chairwoman of the Senate Appropriations Committee who shepherded the bill through the Senate, on the Senate floor after the bill's passage. "For all who watched the debate here in the last week, they saw civility, they saw sensibility."
The process began when House Republicans led by Rep. Hal Rogers of Kentucky, chairman of the House Appropriations Committee, passed a government funding measure that updated the budgets for the Defense Department, veterans affairs, and military construction. Because Congress has failed to pass many appropriations bills in recent years, many government agencies are running under budgets that are out-of-date.
---