Mr. Elizabeth Taylor goes to Washington
(Read article summary)
When John Warner, Elizabeth Taylor's sixth husband (or seventh, depending how you count), campaigned for the US Senate in 1978, the movie star played a new role: candidate wife.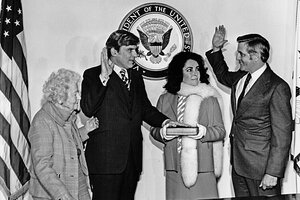 Courtesy of Sen. John Warner / CNP / Newscom / File
Elizabeth Taylor, one of the most glamorous movie stars of all time, was also – for one hard-fought election in the late 1970s – a hot campaign issue.
By "hot," we mean "marked by intense emotion," in case you thought we were implying something else.
In 1978, Ms. Taylor's sixth (or seventh, if you count Richard Burton twice) husband John Warner ran for a Senate seat in Virginia as a Republican. With few ideological differences between him and Democratic opponent Andrew Miller, reporters devoted a lot of attention to what they called the "battle of the candidate wives."
On one side was Liz, star of "Cleopatra." On the other was Doris Miller, who, by her own estimation, was similar to Ms. Taylor in just one respect – they were the same age. So who played the role of dutiful wife, and who starred in campaign commercials? Gold star! Taylor was the former, and Ms. Miller the latter. Welcome to the upside-down world of politics.
---