Ted Cruz presidential race 2016: Whose worst nightmare?
(Read article summary)
Some conservative leaders reportedly are urging Sen. Ted Cruz of Texas to run for president in 2016. That could be a nightmare for either Democrats, other Republicans, or even Cruz himself.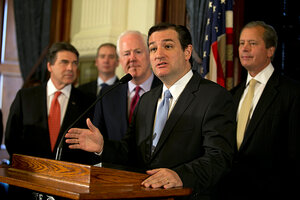 Deborah Cannon/Austin American-Statesman/AP
Fiery Republican Sen. Ted Cruz of Texas is thinking about running for president in 2016, according to a report in the National Review. The freshman lawmaker may have been in office only four months, but he has risen quickly to national prominence, and some conservative leaders are privately pushing him to run, reports NR's Robert Costa.
"There's not a lot of hesitation there," says one Cruz donor quoted by Mr. Costa. "He's fearless".
Wow – a Cruz run would shake up the race, wouldn't it? If nothing else a Cruz candidacy would provide the media with lots of spicy stories. This is a guy who's irritated longtime Democratic Sen. Dianne Feinstein of California with what she took to be condescending remarks, charged that Pentagon chief Chuck Hagel may have taken money from foreign governments, and recently called some of his Republican colleagues "squishes" in remarks to a Texas tea party gathering.
The latter led conservative Washington Post blogger Jennifer Rubin to label Senator Cruz as immature and unsophisticated about the governance of the nation.
"There is being principled, and then there is being a jerk," Ms. Rubin wrote this week.
---