Should Republicans look to Texas for immigration inspiration?
Texas Gov. Rick Perry's comments on immigration got him in trouble with tea party activists and other conservatives during the Republican presidential primaries. But the GOP may need the 'heart' he spoke of to attract Hispanic voters, who went overwhelmingly for President Obama.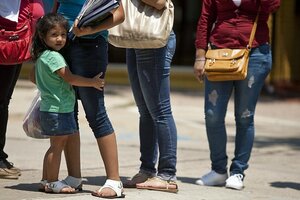 Nick de la Torre/Houston Chronicle/AP
When Texas Gov. Rick Perry made news last year for saying that those who opposed the education of immigrant kids didn't have a heart, it was widely seen as a gaffe that helped bring down his presidential campaign.
But three weeks after the 2012 election, the GOP-dominated House on Friday passed an immigration bill aimed at expanding visas for college graduates focused on science and technology – a proposal that could serve as the precursor of comprehensive immigration reform, complete with "heart" as it echoed appreciation of immigrant contribution.
The GOP's dramatic philosophical turnaround on immigration policy has been pilloried by critics on both the left and right as tokenism after Hispanics soundly broke for Obama.
Yet with Rick Perry's Texas likely to emerge as the state to challenge Obama's vision of a stronger federal government, the lessons from the state, particularly on immigration, are being taken more seriously after what many Republicans saw as a withering election defeat on Nov. 6.
QUIZ: Could you pass a US citizenship test?
To be sure, the GOP is being pulled in a dozen different directions as it preps its backbench of state leaders to take a more definitive role in guiding the party back to electoral viability. For one, the GOP's Washington establishment wing and its conservative tea party wing are drawing vastly different forensic conclusions from the wreckage of the race, including how, or if, to polish its immigration rhetoric.
Mitt Romney's departure from the national stage, writes Steve Peoples of the Associated Press, has "left the GOP rudderless, lacking an overarching agenda, and mired in infighting, with competing visions for the way ahead …"
---