Immigration reform: Can the GOP really win Hispanic votes with a flip-flop?
Republicans are beginning to craft legislation around an idea that seemed laughable before last week's election: immigration reform that includes a path to citizenship. Critics say the gambit may not work.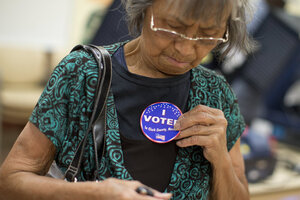 Julie Jacobson/AP
Before Republicans tackle wholeheartedly any comprehensive immigration reform, many lawmakers will probably have to be convinced of one thing: Will it actually win them Hispanic votes?
More than 70 percent of Hispanic voters chose President Obama last week, confirming his preelection prediction that Republicans couldn't win the presidency with xenophobic zeal that alienates Hispanics or with out-of-touch proposals such as Mitt Romney's suggestion that illegal immigrants opt for "self-deportation."
Since Election Day, much has been said about a need for the GOP to build new demographic coalitions. And so Republican lawmakers are now beginning to draft the outlines of immigration reform. That outline could become the first significant piece of border legislation since the failure in 2006 of a Bush-sponsored package.
On Sunday on NBC's "Meet the Press," Sen. Charles Schumer, a Democrat from New York, said that the Senate has already reopened bipartisan negotiations on immigration reform and key players have already agreed to a "detailed blueprint" based on the idea that "most Americans are for legal immigration, but very much against illegal immigration."
---