Bill Clinton on David Letterman: Did blinks show Hillary's secret 2016 plans? (+video)
(Read article summary)
Bill Clinton didn't 'blink twice,' as David Letterman suggested, to signal that Hillary Rodham Clinton is running for president in 2016. But there's a whole lot of networking going on.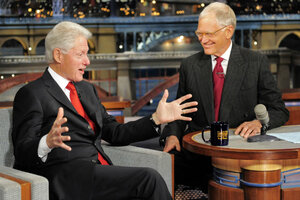 John Paul Filo/CBS/AP
Bill Clinton was on David Letterman's "Late Show" Monday night and Letterman tried his darndest to get the ex-president to spill Hillary Rodham Clinton's deepest secret: whether she's planning to run for the White House in 2016.
"Of course you know," scoffed Mr. Letterman at one point. Then he looked directly at Clinton and said, "If she is running, to your knowledge, blink twice."
Clinton laughed and stared back. His eyes appeared to water for a moment.
"I blinked once!" he insisted.
What does that mean? She's not running? She's running in 2020? Six more weeks of summer weather?
What it means is that he does not know what Hillary is going to do, Chelsea does not know what Hillary is going to do, and Hillary does not know what Hillary is going to do, according to Bill. Then, he got a bit more serious and said that politics has gone crazy, and that when he ran for president in 1992 he did not declare until 13 months ahead of time.
"I didn't go out and do a bunch of stuff in advance, either," he said.
Well, maybe not, but knowing Bill Clinton, he had his whole campaign mapped out years ahead of time in his head. If it were him thinking about 2016, he'd already be drawing up lists of potential Cabinet picks – for his second term.
Anyway, Clinton also pointed out that his wife is writing a book, they're enjoying going to movies like regular people, and so forth. Letterman thought this over for a second and then said, "Well, you could finish her book."
"I could," agreed Clinton.
---