Stimulus money puts teachers in layoff limbo
Funds trickle out, leaving many state and local education budgets in flux.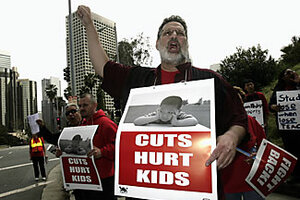 Nick Ut/AP
An unprecedented $100 billion in federal stimulus money is starting to flow to school districts. Educators welcome the aid, but with most districts just starting to get estimates of how much they'll receive, it's adding complexity to an already confusing budget cycle.
Particularly challenging – and emotional – are decisions about how many teachers' jobs to fund for next year.
Deadlines have been coming up for renewing contracts, yet many state and local education budgets are in flux. That's putting tens of thousands of teachers into layoff limbo.
In some cases, jobs have already been saved. But pink slips are also going out, even as district leaders hope a good number of those jobs can be salvaged in time for the new school year.
A look at several states and school districts sheds light on the tension between multiple goals for the stimulus money – saving jobs, reforming education, and avoiding becoming too dependent on a funding stream due to dry up in two years.
"Nobody's ever seen a raft of new money like that [for education] ... so people have had a hard time figuring out what to do," says Bruce Hunter, an associate executive director of the American Association of School Administrators (AASA) in Arlington, Va.
In some states, such as California, the stimulus money won't be enough to offset budget shortfalls. "The problem now is the state revenue estimates keep dropping," Mr. Hunter says. "It has made it nearly impossible to plan ... so people have handed out a lot of layoff notices."
---