Veterans Day is a teachable moment for many US schools
Schools are mostly finding noncontroversial ways to bring Veterans Day into the classroom. For some students, this is the first time they've ever met a vet.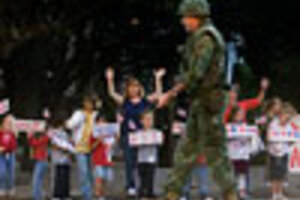 Ralph Barrera/Austin American-Statesman/AP
With the US in two ongoing conflicts and the recent shootings at Fort Hood, Texas, Veterans Day has taken on a new meaning for many Americans – and a renewed prominence in schools.
Around the country, many schools are using the day as an opportunity not only to honor veterans, but also to help students better understand current events and the military.
In West Virginia, thirteen schools are participating in "Take a Veteran to School Day," where veterans from conflicts ranging from World War II to Iraq come in for roundtable discussions.
For the first time in three decades, South Dakota's Meade School District chose not to give students a holiday on Veterans Day in order to have a more meaningful observance. At one high school in the district, an all-school assembly Wednesday is being followed by small group discussions with past and present service members.
An Alabama high school class is creating a "living history" documentary, interviewing and recording local veterans.
"I think you can do more in school [to commemorate Veterans Day], and taking the day off is almost a cop-out. They go to the malls," says Ronald Stewart, headmaster at York Prep in Manhattan, explaining why he chooses, like the Meade School District, to hold classes on Veterans Day.
---