Obama directs $250 million for science and math education
New funding will increase the number of science, technology, engineering, and math teachers. The goal is to improve US students' mediocre ranking in math and science performance.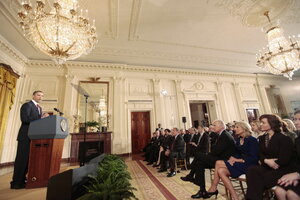 Charles Dharapak/AP
President Obama on Wednesday announced a $250 million public-private effort to increase the number and quality of science, technology, engineering, and mathematics (STEM) teachers.
The partnerships expand the "Educate to Innovate" campaign Mr. Obama launched in November. But where the initial campaign focused on out-of-classroom science exposure – bringing in organizations like the Discovery Channel and Sesame Street – the latest efforts focus specifically the teaching part of the issue.
"The in-school intervention that has the highest impact on student achievement is a strong teacher," says Arthur Levine, president of the Woodrow Wilson Foundation, whose teaching fellowship is one of the five programs the administration is helping to expand.
The push for more attention on STEM subjects has been building for some time, with educators, business leaders, scientists, and policymakers calling attention to American students' lackluster math and science performance relative to other countries and sounding the alarm for what it means for the country's future.
"Our future is on the line," said Obama in announcing the new partnerships and honoring more than 100 science and math teachers. "The nation that out-educates us today is going to out-compete us tomorrow."
US students' mediocre ranking
According to one measure, US students are 19th in math and 14th in science out of 31 countries ranked by the Organization for Economic Co-operation and Development (OECD). And in 2000, the number of foreign students studying physical sciences and engineering in US grad schools for the first time surpassed the number of American students.
---