No Child Left Behind overhaul: five key things that would change
Here are five key changes that the Obama administration is proposing in an overhaul of the No Child Left Behind Act.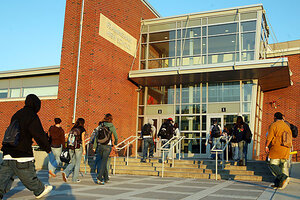 Melanie Stetson Freeman / The Christian Science Monitor/File
On Saturday, the Obama administration released its blueprint for overhauling the 2002 No Child Left Behind Act. US lawmakers are to consider the blueprint – and make their own revisions – as part of a reauthorization process for the education law.
Although the administration's proposals would change many things about No Child Left Behind, one central component would remain: annual tests in reading and math for students.
On the other hand, one component that is likely to go away is the very name "No Child Left Behind." Administration officials have indicated that the law should take on a new name, though this point wasn't brought out in the blueprint.
Beyond the likely name revision, here are five key changes that the Obama administration is proposing:
• The goal of student proficiency in reading and math by 2014 would change to a standard of "college and career readiness" for students by 2020. As 2014 has approached, it's become clear that the proficiency goal won't be reached in that time frame. With the new goal, administration officials are focusing less on grade-level attainment and more on the skills that students will need for school or work after high school.
In a development related to this goal, the Council of Chief State School Officers (CCSSO) and the National Governors Association (NGA) have drafted a set of "common core" academic standards for US students.
---