Race to the Top losers: Why did Louisiana and Colorado fail?
Louisiana and Colorado, two states lauded for education reform, didn't make the cut in Round 2 of the Department of Education's Race to the Top grants. Some experts were puzzled.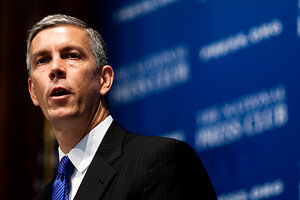 Drew Angerer/AP
Nine states and the District of Columbia have emerged as winners in Round 2 of the closely watched Race to the Top competition, the Department of Education's innovative – and controversial – competition to reward reform efforts.
Together, they were competing for $3.4 billion available in federal funds.
In order of their rank, the winners are Massachusetts, New York, Hawaii, Florida, Rhode Island, D.C., Maryland, Georgia, North Carolina, and Ohio.
"We funded as many states as we could [until we] ran out of money," said Education Secretary Arne Duncan in a press call with reporters, noting that just a few points separated some of those states who failed to make the cut from the winners. "I can't overstate how strong the applications were in the second round."
---