Report: Marriage is crumbling in blue-collar America
A new report suggests that the commitment to marriage among moderately educated blue-collar Americans has dropped precipitously since the 1980s.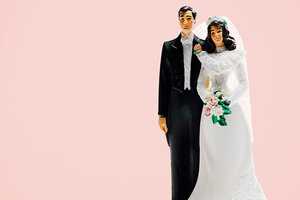 Newscom/File
When it comes to marriage, the institution is seeing its fastest erosion in "middle America" – the large bulk of the population with some education but no college degree.
Blue-collar Americans, once seen as the bulwark of conservative American attitudes toward marriage and pregnancy out of wedlock, now see marital quality, divorce, and childbearing more like the least educated and poorest Americans, leading to a growing "marriage gap" in American society.
Authors of "The State of Our Unions," the new report that presents the data, attribute much of the shift to the steady decline of blue-collar jobs in the US, which has ratcheted up financial pressure on moderately educated Americans. Others point to changing – and perhaps unrealistic – perceptions of marriage.
But the implications are significant, with research suggesting that strong marriages correlate to better well-being among adults and children.
"It's striking how much the bottom has fallen out for middle Americans," says Bradford Wilcox, author of the study and the director of the National Marriage Project at the University of Virginia, which issued the report along with the Center for Marriage and Families at the Institute for American Values. "There's a clear connection between what's happening here and the middle class's capacity to realize the American dream."
---
Follow Stories Like This
Get the Monitor stories you care about delivered to your inbox.