NJ Gov. Chris Christie wants to end teacher tenure – and he's not alone
Just this week, state officials in New Jersey, Florida, and Idaho have called for the elimination of teacher tenure, and more states plan to join the debate.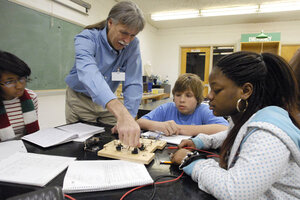 John Rawlston / Chattanooga Times Free Press / AP / File
In their bids to reform K-12 education, state leaders in New Jersey, Florida, and Idaho have all called this week for eliminating teacher tenure.
If the legislatures go forward with such proposals, they'll join more than a dozen states that have recently changed their teacher evaluation and dismissal systems or are considering such moves.
The momentum sprang in part from incentives in the Obama administration's recent Race to the Top competition for stimulus funds.
Ending tenure is also being championed prominently by former Washington, D.C., Schools Chancellor Michelle Rhee. Ms. Rhee's new Students First education-reform group called for that this week when it released its detailed policy agenda.
Contrary to what the word conjures up, tenure doesn't mean a lifetime job guarantee for teachers. Laws establishing hearings or other protections against arbitrary firing sprang up state by state in response to problems such as discrimination against women or politically motivated firings.
---