Gardena High shooting raises question: How to keep guns out of school?
The Los Angeles school district will review its security policies after the apparently accidental shooting of two students at Gardena High School. But experts are split on whether big-money projects like metal detectors and surveillance cameras are the way to go.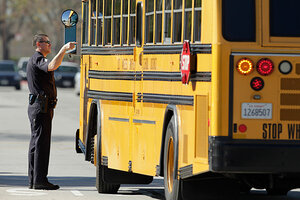 Jae C. Hong/AP
In the wake of Tuesday's school shooting at Gardena High School – deemed accidental but leading to the hospitalization of two 15-year-olds – parents and school officials are asking questions about how best to keep guns out of schools.
The Los Angeles Unified School District – the nation's second largest – says it is reviewing both its own policies and their enforcement by schools. The LAUSD has required random weapons searches since 1993 but has left the details to principals about where and when to conduct them, so they don't become predictable. Police have arrested two more students, who were being held on suspicion of helping the boy bring the gun into the school .
Metal detectors at school entrances are one option, but educators and school-safety experts are split on their effectiveness, as well as the message they send to students. In some districts, they have worked. But others say the only real answer is vigilance, by teachers, parents, and other students.
"More than just machines with an uninvolved attendant standing in front of it, we need principals and parents and teachers and mentors who are engaged with the students all the time so when they have issues about safety, or isolation, we know about them," says Teny Oded Gross, executive director at Institute for the Study & Practice of Nonviolence in Providence, R.I.
'Communication is the key'
In news reports since the Gardena High School shooting, friends of the 17-year-old who carried the gun to school said he carried the gun for protection because of past run-ins with other students, but not with the intent of hurting anyone.
---