State of the Union mystery: What do Obama's Race to the Top plans mean?
Obama called education key to 'winning the future' and wants to replace No Child Left Behind with a plan based on his Race to the Top initiative. But that left some experts scratching their heads.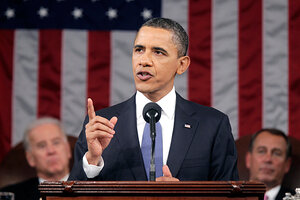 Pablo Martinez Monsivais/AP
Education held a prominent place in President Obama's State of the Union address Tuesday night, as he called for a re-commitment to "investing in better research and education" to meet "our generation's Sputnik moment."
Obama declared, "To win the future ... we also have to win the race to educate our kids." His words deliberately echoed his administration's Race to the Top program, even as he sounded some familiar themes, including the responsibility of parents and communities, the need for higher expectations in schools, and the importance of excellent teachers.
And he also put forth a few more specific proposals:
Prepare 100,000 more science, technology, engineering, and math teachers by the end of the decade.
Make permanent the tuition tax credit – worth $10,000 for four years of college – and expand the Pell Grant program.
Replace No Child Left Behind with a new, more flexible law, that he said should be modeled after his competitive Race to the Top grant program.
That last point had a few education experts scratching their heads, since Race to the Top is a totally different animal from the broader Elementary and Secondary Education Act (ESEA), the formal name for No Child Left Behind. The ESEA is the means by which the federal government delivers most of its money to schools and states – more than $100 billion, mostly determined by certain formulas, compared with the $4 billion of competitive grants that made up Race to the Top.
---