Can Obama, Congress meet minds to revamp No Child Left Behind?
A new version of No Child Left Behind may target only the bottom 5 percent of schools for intervention. For most schools, mandates based on student test scores would be rolled back.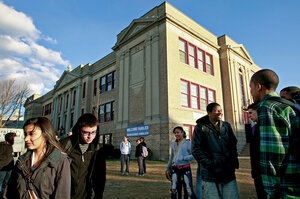 Steven Senne/AP
President Obama campaigned on bringing common-sense changes to the federal role in K-12 education. But even with a Democratic-controlled Congress, efforts toward a long-overdue revision of No Child Left Behind made little headway.
NCLB's goals are widely praised: improve education and close the gaps in opportunity and achievement faced by low-income and minority students.
But the law's methods have proven unpopular. Nine years after complex testing and accountability systems became the new normal in American schools, the question looms: Can the Obama administration rally a bipartisan group of lawmakers to agree on key changes to the law before election cycle gridlock threatens to set in?
School administrators hope so. They call the current goal – 100 percent of students reaching math and reading targets by 2014 – unrealistic. They hope a new law would roll back the strict requirements and timelines that characterize NCLB. And state and local school leaders need more choices about how best to improve achievement, say groups such as the National School Boards Association.
Secretary of Education Arne Duncan says revising the law is his top priority. He hopes his months of bipartisan meetings are about to pay off. He has met regularly with members of Congress, particularly since last March, when the administration released its blueprint for a new version of the law, formally known as the Elementary and Secondary Education Act (ESEA).
---