Obama takes on bullies at White House anti-bullying summit
President Obama showcased federal, state, local initiatives to address bullying, at a White House webcast on bullying prevention.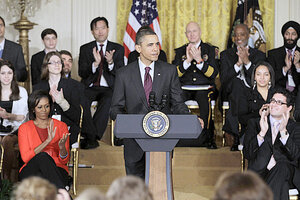 Charles Dharapak / AP
Partly it's because he grew up being teased about his big ears, and partly it's because he has two young daughters: For President Obama, the nation's bullying problem is one he takes personally.
He and First Lady Michelle Obama opened a conference on bullying prevention Thursday morning by calling on all adults to consider the role they can play in creating a safer climate for children.
The issue is even more personal for some conference attendees – parents and siblings of youths who have killed themselves in recent years in the wake of repeated bullying.
Sirdeaner Walker, for instance, became a national advocate for anti-bullying laws and education after her 11-year-old son, Carl Joseph Walker-Hoover, committed suicide in 2009 after prolonged anti-gay bullying at school. Attention to his case, as well as the suicide last year of teenager Phoebe Prince, helped build momentum for a new comprehensive bullying prevention law in Massachusetts.
"No family should have to go through what these families have gone through," President Obama said. With a third of all middle-schoolers and high-schoolers reporting that they have been bullied in a given school year, he said, "we've got to make sure our young people know that if they're in trouble, there are caring adults who can help.... And this is a responsibility we all share – a responsibility we have to teach all children the Golden Rule: We should treat others the way we want to be treated."
---
Follow Stories Like This
Get the Monitor stories you care about delivered to your inbox.